MARKET NEWS
Korea and the U.S. decided to establish a global vaccine partnership, named KORUS Global Vaccine Partnership, in a summit meeting between President Moon Jae-in and U.S. President Joe Biden.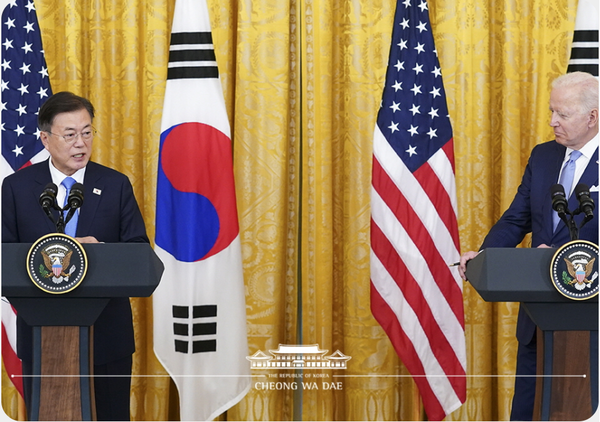 President Moon Jae-in speaks as U.S. President Joe Biden watches during their joint news conference in the White House on Friday (EST). (Courtesy of Cheong Wa Dae)
According to the details revealed by the Ministry of Health and Welfare on Sunday, the two countries plan to accelerate the global vaccine production and supply of the Covid-19 vaccine by combining Korea's biopharmaceutical production capability and the U.S.'s vaccine development technology, raw and subsidiary material supply capability.
The two countries will strengthen scientific and technological cooperation to strengthen global health security and capacity to respond to infectious diseases. They will establish the "KORUS Global Vaccine Partnership Experts Group," which will comprise scientists, experts, and public officials.
Biden pledged to provide full vaccinations for all 550,000 South Korean troops, stating that it was for their and the American forces' sake.
The agreement fell short of Seoul's initial expectation of a Covid-19 vaccine swap between the two governments. The Moon administration had expressed its wish to reach a vaccine swap deal with the U.S. to secure vaccines to accomplish its immunization goal before the President left for the summit meeting.
Instead of a vaccine swap, Korean biopharmaceutical companies and governmental agencies have signed four contracts with U.S. vaccine makers, Moderna and NovaVax.
The health ministry stressed that such new deals with U.S. vaccine makers would help Korea become a global vaccine factory and expedite the pandemic's end by growing supply and increasing deliveries.
For instance, Samsung Biologics signed a deal Saturday to manufacture Moderna's Covid-19 vaccine at its factory.
Under the accord, Samsung Biologics is expected to manufacture "hundreds of millions of doses" and supply them globally. The health ministry expects that the company will be able to mass-produce the vaccine from the third quarter of this year through technology transfer and trial production.
"Moderna's vaccines that the government has separately purchased will be supplied according to the contracted schedule regardless of the consignment and production period," Second Vice Minister of Health and Welfare Kang Do-tae said during a media briefing on Sunday. "In terms of the efficiency of vaccine distribution, it seems that local supply of the vaccine will have a positive effect."
In the long run, the government believes that the deal will help provide a positive and stable vaccine supply, he added.
The Ministry of Trade, Industry and Energy, the Ministry of Health and Welfare, and Modena also signed a memorandum of understanding (MOU) for cooperation regarding Modena's potential investment and production in Korea.
The main contents of the MOU call for Moderna to invest in mRNA vaccine production facilities in Korea and recruit a Korean workforce and for the Korean government to support Moderna's investment in Korea.
SK Bioscience and the health ministry also signed an MOU with NovaVax for vaccine development and production.
SK Bioscience and NovaVax decided to develop a combined vaccine that can help vaccinate both the Covid-19 and flu viruses at once and a vaccine against the Covid-19 variant viruses.
"President Moon Jae-in's visit to Washington has further strengthened the Korea-U.S. alliance on Covid-19 vaccines," Minister of Health and Welfare Kwon Deok-cheol said. "If South Korea, which boasts a top drug production capacity, and the U.S., the world's top vaccine developer, work together, it could benefit the world."
출처: Korea Biomedical Review
---
Return to list